Ray dapat call last minute frm Achmal (AC)menjemput ray mewakili DFC untuk menghadiri Open House KRU di rumah Yusry yang terletak di KL. Nak pergi sorang-sorang? I don't think so la kan. Segan pergi sorang-sorang. So call balik tanya berapa orang yang can go with me. 5 orang...limitnya kerana open house ini adalah jemputan khas untuk wartawan dan business partner KRU.


Masalahnya, DFC ni business partner KRU ke? Yes, we are... according to KRU. Any organisation yang support artis yang bernaung dibawah KRU akan dianggap business partnernya. Honoured and very touched to hear that. Segan still menebal tapi AC dah ajak kan so kena la pergi. Kalau taknak kena carut lak nanti..hahaha. So, readers...kalau ada saper-saper tanya pasal show dan berminat nak jemput Dafi...boleh menghubungi ray.


Last-last minute hari bekerja pulak tu...call la sape-sape yang sempat. Amy, Megat, Lyn dan Saf...adalah dengan ini anda dijemput untuk menemani Presiden DFC ke majlis rumah terbuka KRU. Sampai je, disambut dengan mesra oleh AC, Lynsie, Norman, Yusry dan staff-staff KRU yang lain. Cool. Dafi pun kenalkan lah ray pada boss besarnya Norman. Secara berseloroh, "OO u la yang bertanggungjawab sampai lagu bila terasa rindu naik sampai no2" "Next single Dafi nanti terus masuk carta dan terus no 1 ya". I take that as a compliment bagi pihak semua Dafinites yang mengundi Lagu Bila Terasa Rindu.


Dafi excited la sangat bila nampak kita orang datang. Dafi berbaju oren (corporate colour KRU) kebetulan sedondon lak ngn Lyn. I think we are the only wakil fan club yang datang. Dafi dari pemerhatian ray...sangat peramah dan disukai tetamu yang hadir. Dari meja ke meja Dafi berjumpa tetamu yang hadir. Macam open house tu Dafi yang punya pulak. He has done a great job. Proud to see him getting along with Press and guest so well. "Adek Dafiiii" Azwan Ali menjerit memanggil Dafi ketika Azwan duduk di meja dan Dafi pula ke meja buffet. Hidangan tersusun rapi...nyum nyum. Ada rendang, kueh mueh, laksa bla bla bla...the list goes on and on.

Sungguh rendang pohon rumbia
Tempat persinggahan sianak kera
Ketupat rendang sudah tersedia
Jemputlah semua menjamu selera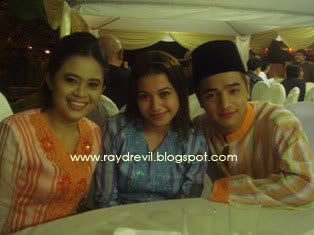 Nak ambil gambar tersangat la segan kan sbb we are there not as fans but as guest la pulokkkk...so dengan penuh berhati-hati kamera dikeluarkan so it won't look so obvious. Ray snap gambar Dafi and Dafi sibuk nak tengok hasil gambar dia tu...Itu la Dafi yang ray kenal...lepas amik gambar ...nak tengok aje. Itu sudah wajib. Ikutkan aje la...huhuhu. Antara artis/celeb tv/radio yang ray nampak hadir ialah Ezllyn, Fahrin, Linda Onn, Kumpulan Flava, Nizal, Chef Ismail hurm sape lagi ek? Wartawan pun ramai...sekali datang dush...sederet.


Setelah kenyang makan, nak mintak diri dah...tapi Dafi cakap "Weiii lepak arrr dulu...pukul 10pm pun aku nak chow dah pun" so...nak tak nak, terpaksa la tunggu Dafi ni ha. Lepak je la kat meja tu sampai pukul 10pm. Yang join meja kitaorang Reza (DJ era) dan rakannya. Lepas Reza balik, Dafi kenalkan kat kitaorang seorang kakak (org kuat KRU die hard fans - since 1992 lagi). So kita lepak and berbual-bual sementara menunggu Dafi yang sibuk mingle-mingle dengan tetamu yang lain.


Tiba masanya, kami pun bersalaman dengan tuan rumah and mintak diri.

Tanpa mengira miskin kaya
Pangkat kedudukan hamba shaya
Sama-sama menyambut raya
Maaf-maafan dihari bahagia

Dalam perjalanan ke kereta sempat la amik gambar....Ray kemudian hantar Dafi ke opis KRU (sbb Dafi parked kereta kat sana). Oh ya...masa nak balik tu, Norman ada termentioned lagu terbaru Dafi....huhuhu "Dr something-something" . Nak tau? Kena la tunggu k.
Lepas hantar Dafi, pergi ke rumah kawan ray kat Gurney, hantar samping tajaan Megat. Sampai rumah pukul 12.30am...pengsan jap...fon berbunyi...keluar lagi....huhuhu.